About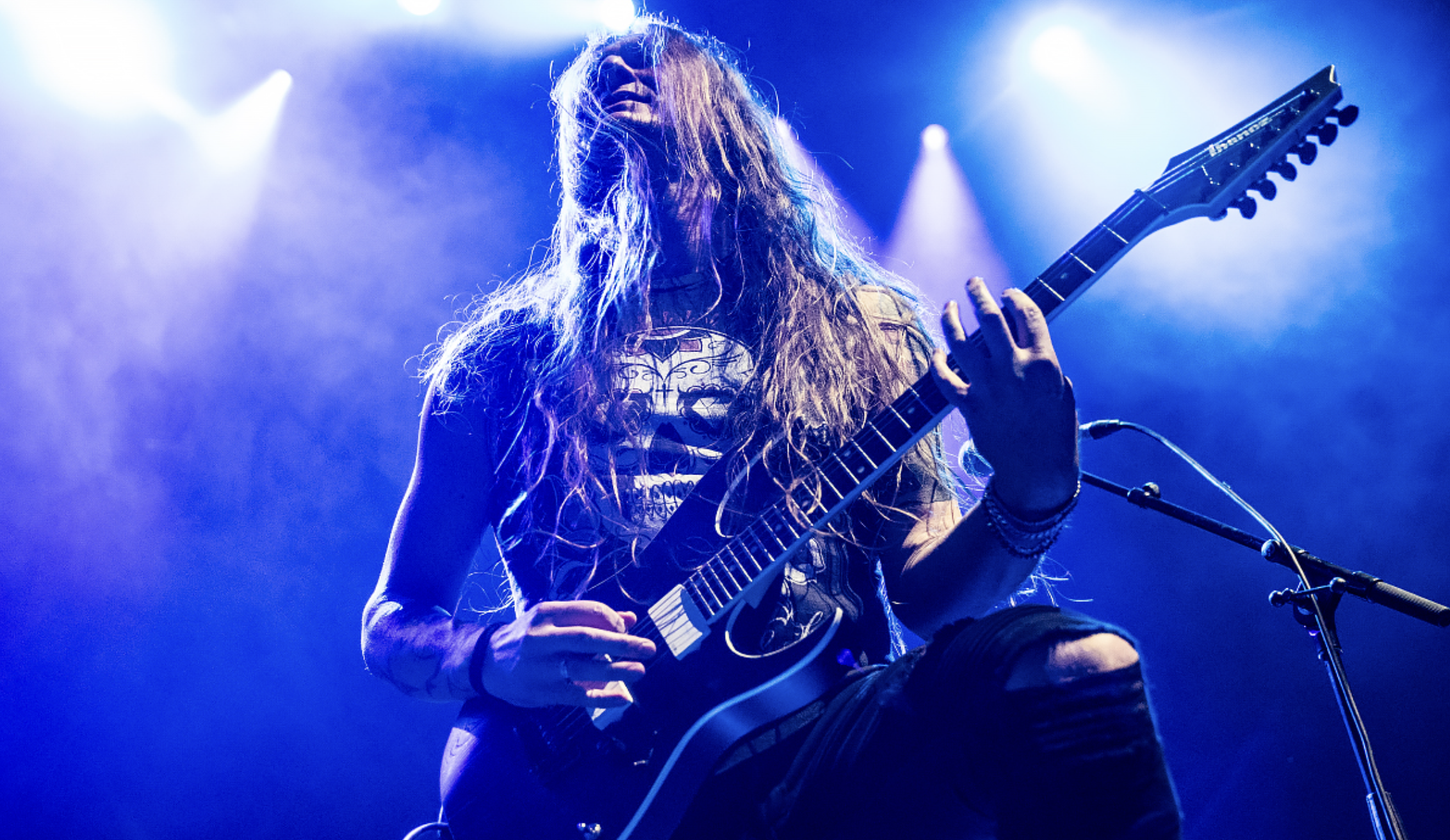 ANDY MARTONGELLI
(Ellefson / Arthemis / Andy Martongelli)

(MMI INTERNATIONAL - ESSENTIAL ROCK/METAL GUITAR METHOD @ Modern Music Institute - MMI International)

Guitarist, songwriter, guitar teacher and music producer, Andy (Andrea Martongelli) belongs to the Hard Rock / Heavy Metal world since 1999, when the Metal band Arthemis starts their career.

From 1999 to nowadays Andy recorded with his band Arthemis and other bands (Ellefson, Ellefson-Soto,Power Quest, Killer Klown...), several Metal albums, constantly touring and performingat some of the greatest World Rock-Metal events, establishing himself as a Rock-Metal guitarist but also as an eclectic musician and great songwriter.



June 2010 issue of Metal Hammer UK: ARTHEMIS featured on Metal Hammer magazine UK to cover the Judas Priest song "United" in the magazine tribute CD for the World Metal Hammer UK 30th Anniversary JUDAS PRIEST Tribute album "British Steel" release, together with Firewind, Disturbed, Five Finger Death Punch and many more.

November 2010: ARTHEMIS interviewed on Metal Hammer UK and on the Official Metal Hammer Web Site recording the exclusive EP album (F)ARTHEMIS - "POP UP YOUR ASS Vol. 1", covering 6 songs from famous pop stars turned into evil-Heavy Metal songs (Rihanna, Madonna, Lady Gaga, Micheal Jackson, Destiny's Child, Britney Spears), available for free download at www.arthemisweb.com/downloads


November 2013: Andy performs a killer guitar solo on the Michael Angelo Batio solo album titled "Intermezzo". The song is titled "8 Pillars Of Steel" (featuring Jeff Loomis, MAB, Rusty Cooley, George Lynch, Elliott Dean Rubinson, Craig Goldy).

February 2019: Altitudes & Attitude ( Frank Bello from Anthrax & David Ellefson from Megadeth band) touring Europe as opening act for Slash feat. Myles Kennedy and the Conspirators.


September 2019: Andy performs a Guitar solo on the "David Ellefson" (Megadeth legendary bassist) solo album "Sleeping Giants" on the song "Hammer (comes down)" which features also Mark Tremonti (Alter Bridge), Chris Poland (ex-Megadeth Guitarist), Thom Hazaert on vocals, Dave McClain & Joey Radziwill from Sacred Reich, Eric AK from Flotsam and Jetsam.


November 2019: Andy performs with "David Ellefson Band", touring Europe and on the 1st show of the tour in Wolverhampton (UK), performing a full-blast set with David Ellefson Band as Guitarist and Music Director, sharing the stage with the one and only KK Downing (Judas Priest), Tim "Ripper" Owens (ex-Judas Priest) on vocals, drummer Les Binks (ex-Judas Priest) and many amazing artists.


November 2020: Andy is the main guitarist and Music director (together with David Ellefson) on the Ellefson album titled "No Cover" featuring great Musicians of the worldwide Rock/Metal scene as Ron "Bumblefoot" Thal (Sons of Apollo, Yes, Ex-Guns N' Roses), drummer Paolo Caridi, Al Jourgensen (Ministry), Satchel (Steel Panther), Charlie Benante (Anthrax), Dave Lombardo (ex-Slayer), Andy James (Five Finger Death Punch), Eddie Ojeda (Twisted Sister), Brandon Yeagley (Crobot), Dirk Verbeuren (Megadeth), Frank Hannon and Troy Lucketta (Tesla), Mark Slaughter, Jason McMaster (Dangerous Toys, ex-Watchtower), Greg Handevidt (Ex-Megadeth), Chuck Behler (Ex-Megadeth), Gus G, John Aquilino (Icon), Doro Pesch, Dave McClain (Sacred Reich, Ex-Machine Head), Todd Kerns (Slash & The Conspirators), Andy Freeman (Last In Line), Jacob Bunton (Mick Mars).


September 2022: Ellefson-Soto "Vacation in the Underworld" new album featuring David Ellefson, legendary singer Jeff Scott Soto, the great Paolo Caridi on drums and Andy as songwriter ( with Ellefson and Soto) and rythm / lead guitarist.


April 2023: Andy Martongelli, Rowan Robertson (ex-Dio), Gus G, Michael Angelo Batio - Electric Guitarlands European tour.


July 2023: Andy, together with David Ellefson, Dino Jelusik (Whitesnake), Rob Cavestany (Death Angel), writes the song "One of a Kind" for the Nick Menza (legendary Megadeth drummer) movie / rockumentary soundtrack.


July 2023: Andy releases his second instrumental solo album titled "Ultradead" (his 1st solo album "Spiral Motion" was released in 2014).


So far, with Ellefson Band, Arthemis and other bands previously mentioned, Andy toured Europe many times as well as United Kingdom, Japan and U.S.A. as opening act for bands like Slash feat. Myles Kennedy and the Conspirators, Megadeth, Airbourne, Saxon, Dragonforce, Helloween, Adrenaline Mob, Manowar, Cradle Of Filth, Gus G (Ozzy Osbourne / Firewind), George Lynch (Lynch Mob), Within Temptation, Freedom Call, Reb Beach (Whitesnake), Glenn Hughes and many others; Andy also performed at some of the biggest world events as Hellfest (France) Download Festival (Donington-UK), Wacken Open Air, Bloodstock Open Air UK, Hammerfest, Hard Rock Hell UK, Hammerfest UK, Gods Of Metal, Hard Rock Hell Ibiza, Japan Headlining Tours, European tours, MetalDays, Gefle Metal Festival, Ibanez Guitars Tour, Namm Metal Jam @ Whisky A Go-Go (U.S.A.) (…& many other european tours and festivals).

During his career as solo artist Andy shares the stage with several iconic Rock guitar players touring as opening act or jamming with musicians like Steve Vai, Marty Friedman, David Ellefson, Jeff Scott Soto, Guthrie Govan, Paul Gilbert, Michael Angelo Batio (Manowar), Kiko Loureiro (Megadeth / Angra) , Andy Timmons, Rowan Robertson, Frank Gambale, Gus G (Firewind, ex-Ozzy Osbourne) , Reb Beach (Whitesnake, Winger) , George Lynch, Marky Ramone (Ramones), Ola Englund, Vinnie Moore, Andy James …& many more) showing great stage presence, creativity and showmanship. His creative process and technical approach on Guitar keeps changing and evolving through the years making his style, guitar riffs and solos, a real trademark for many fans & Guitarists around the world.

Andy has released instructional Guitar DVDs & books (YOUNG GUITAR Metal lessons, Music-off Heavy Guitar Lessons, The Metal Injection, Suonare nello stile di Yngwie J. Malmsteen, 50 Heavy Metal Monster-Licks), as partner with many guitar magazines, recording studios (as session-guitar player, producer for Rock and Metal bands), music schools (Andy is the head of the Rock-Metal Guitar Department of "MMI Modern Music Institute" with over 50 schools in Italy). Andy is also a Guitar tutor and does guitar masterclasses and workshops around the world on a regular basis (Namm Show USA, Frankfurt Musik Messe, Musicians Institute "MI Japan", London Guitar Show, Second Hand Guitar, Music Italy Show…) and is a very productive musician, always hungry for new musical challenges day by day, carrying on his mission with new tours and creating songs that inspire thousands fans. New tour dates will be announced soon!